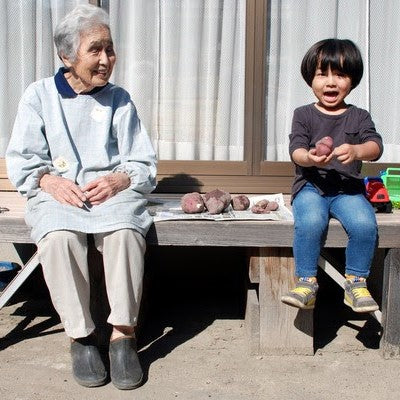 Fresher with Age
Mirai Clinical (mr · ai) offers solutions to help you feel clean, fresh, and confident, so you can improve your well-being. With age comes wisdom, and we are your companion on this journey.
Founder's story
As a young child, Koko Hayashi spent a lot of time with her grandmother. "I remember this one time I invited my friends over to play, but they told me they didn't want to come because of my grandma," Koko recounts. "They told me it was because my grandma smelled bad, which seemed silly to me." As Koko said, it's hard to hear anyone say something negative about your loved ones.
Koko grew increasingly interested in the beauty and health industry as she got older, especially because she had heard stories about people not visiting their elders because of the way they or their homes smelled. "This was very saddening to me," Koko said. "They were missing out on time with their family I often thought. It was then I realized maybe that's what my friends had been talking about all those years ago…" We crave relationships at all stages of life, and to know a certain smell may be keeping people from visiting someone they love… that's hard to hear.
This led Koko on a mission. "I read and learned more about how others perceive the smell and it turns out that 'old person smell' is something we've learned to associate with older adults because it typically doesn't present itself until later in life," Koko mentions. One day, she was introduced to the Japanese company Shiseido and one of their experiments. In this, they found that "we produce a distinctive odor that is similar to that of an onion… when we come under stress" (read more here). Shiseido's experiment unlocked a new type of body odor, called Nonenal. Thanks to their research, Koko now knew what her childhood friends had been referring to and she was determined to find a natural solution for helping those affected by this odor.
"In Japan, there is a day to recognize and respect those that are older, referred to as 'Aged Day', and I spent every "Aged Day" that I could with my grandma," Koko said. It was this respect and honor she saw in Japan and the love for her grandmother that she wanted to share with the United States. "I wanted older adults to feel loved and confident again, so I founded Mirai."
Mirai is built on the belief that our elders should be respected. It is backed by a fine selection of natural ingredients that work to effectively fight a problem that not everyone may experience but for those that do, will be grateful for.
It's all in the science
What can eliminate an odor that isn't as easily washed off regardless of good hygiene or daily bathing? Japanese Persimmon! Not all Persimmon Extracts are alike though. Only extract that has been specially grown, selectively harvested, carefully processed, and tested for maximum deodorizing benefits demonstrates the results we look for. Our Persimmon Extract is formulated in our partner lab following these conditions and under Good Manufacturing Practices (GMP) in addition to ISO9001.
Our Products
Our first offering was our Deodorizing Soap Bar with Persimmon and because Mirai (mr · ai) means the future in Japanese, it has been our goal to create and share natural solutions to everyone for use on the body, hair, and in the home. Of course, featuring our key and star ingredient, Japanese Persimmon. We want all our products to give you a future of confidence! Every formula is crafted with our supporters in mind. Keeping them to the barest necessities and containing only the most natural ingredients possible. Developing products that are clean and fresh is our future
Our Promise
We're committed to honoring the skin and its functions. This commitment manifests in two ways. First, we create products that help you cultivate harmony from the skin to the body to soul. Second, we work hard to ensure that the language we use around our products and the ingredients that go into them is aligned with our values. Ultimately, the brand we create is a reflection of who we are and what matters most to us. Let's celebrate the body at every age, in every shade of beautiful.
Our team is comprised of experienced skincare and medical professionals from Japan and the U.S.
Koko Hayashi, Founder and CEO

Koko Hayashi was born and raised in Japan, one of the most advanced aging societies in the world. To welcome positive aging, she is addicted to natural methods to slow down her aging process, and it is her passion to share them with the world. Then she realized that this aging odor is not commonly known outside of Japan, so it was natural for her to launch Mirai Clinical, to help you feel fresh & confident.

1. Featured at "Shark Tank" 2019

2. Executive Producer, Cool Japan Initiative 2015

3. CIDESCO (the most internationally respected aesthetic license) holder

Dr. Yoko

Dr. Yoko, a renowned board-certified physician and longevity/bio-hacking researcher, is a dedicated medical doctor who has devoted her life to improving the health of people around the world through biomedical research. She began her research at the University of California Los Angeles (UCLA) and later founded the Dr. Yoko Beauty Terrace Clinic in Japan where she continues her cutting edge anti-aging research. In addition, she contributes to the anti-aging research at the Sinclair Ginza Clinic in Japan. Excitedly, she joined Mirai Clinical in 2022 as an advisory doctor.

Laura Salonga, Operations and Customer Service

Born and raised in Southern California, Laura came to us from the Hospitality industry, where for many years she honed her first class customer service skills and even received a Customer Service Excellence award. Starting her career out as a hotel operator in Pasadena and ending in hotel management in San Diego, she now takes charge of our Operations and Customer Service at the highest level in which our Company had not previously seen and strives daily to provide our customers with the best experience yet. As a busy wife and proud mother of three beautiful children, Laura has found a perfect work/life balance being a key part of the team. Our customers can rest assured that she will always champion their ideas for future products and suggestions with enthusiasm, respect and care.

Caitlyn Reyes, Project Manager

Born and raised between Minnesota and Oklahoma, Caitlyn started as our content creator in 2015. After receiving her Bachelor's of Science degree, she worked her way up to Project Manager. She enjoys using her problem solving and research skills to help with product production, user experience and more. In her spare time she enjoys nature photography and reading.

Maica Baleña, Project Manager

Maica is a born and raised Filipina with a passion for business and entrepreneurship education. She started as our social media assistant in 2020 and has been working remotely ever since. After more than a decade of working in the fashion industry abroad, she decided to go back to the Philippines, where she now focuses on helping us as an all-around manager.
⤫